Tom Felton teased us this morning by saying the following on his Twitter:
and then many hours later he tweeted this: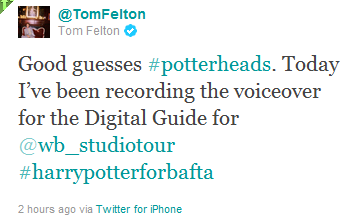 That's right, the Tom Felton fans/Harry Potter fans will be able to hear Tom Felton as their audio tour guide at the Warner Bros. Studio Tour London – The Making of Harry Potter! I just can not wait to hear his voice guiding me around the sets of Harry Potter. I think he is a great actor and I love his voice! So exciting this news, I'm really looking forward to visit that place (hopefully) this year.
This is what http://www.mugglenet.comΒ said in their article:
Actor Tom Felton, who portrayed Draco Malfoy in the Harry Potter films, will be the voiceover for the Digital Guide to The Warner Bros. Studio Tour London: The Making of Harry Potter.
Tom just tweeted:
"Good guesses #potterheads. Today I've been recording the voiceover for the digital Guide for @wb_studiotour #harrypotterforbafta"
This news is a follow up from his earlier tweet this morning:
"Today is an exciting day…I look forward to when I can share #Potterheads"
The Digital Guide that Tom is referring to, will be available for purchase when the studio tour opens on March 31st of this year. The Official Website describes the Digital Guide:
Our handheld audio-visual guides bring the Studio Tour to life in a completely new way. It contains fascinating facts about the sets, costumes and props, as well as newly produced interviews with fimmakers and never before seen behind-the-scenes footage. It is available in eight languages and can be pre-booked with your tickets. This is available to hire for just 4.95GBP.
Does the fact that Tom Felton's voice is on the Digital Guide help make your decision to purchase this on the Studio Tour, or were you going to purchase it anyway? Let us know in the comments below.
It definitely does help that his voice will be on the Digital Guide to make my decision to purchase this on the Studio Tour but I was planning to get a Digital Guide probably anyway. I'm so excited and happy about this news, it makes the tour studio even more awesome in my opinion.
Any of you who are going or want to go to this studio tour by the way?
Xoxo